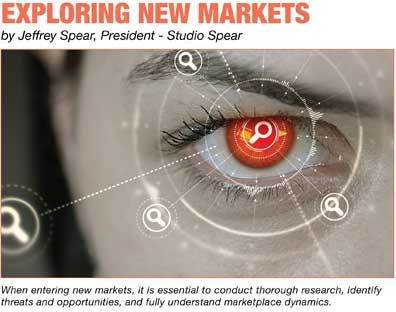 If you've written a business plan, you know that one of the first things you need to do is define an objective. Most often, objectives are stated in terms of financial goals which, in turn, are stated as a percent rise in sales.

While opportunities to increase sales can be created through new product introductions, retailers may not be willing to dedicate additional space to your products and will simply substitute newer items for products that have been part of their regular order without increasing their overall spend.

You may also find opportunity through broader distribution. When successful, local brands become regional, and regional brands become national. Once national penetration and brand saturation has reached its limits, you may wish to consider opportunities in overseas markets.

For food marketers, trade shows such as Fancy Food, Natural Products Expo, and National Restaurant Show contribute significantly to brand awareness, market penetration and sales in US markets. Believing that tradeshows in other countries may produce similar outcomes, participating in shows such as Gulfood, SIAL, Ambiente, and World Food Moscow put exhibitors in contact with buyers from major European and MENA markets.

Participating in international tradeshows can certainly be productive. While you may obtain orders, without some degree of strategic planning, you may find yourself poorly prepared to effectively conduct business in certain parts of the world.

If you're going to establish sales in export markets, recognizing the time and level of investment you will need to make, be sure to answer the question "Will the volume of sales from this buyer justify the effort?" More importantly, does this buyer represents a meaningful, long-term, and sustainable relationship or a relatively small, limited-term purchase.

While international sales are exciting and can represent meaningful sales volumes, you'll need to travel and service these offshore accounts on a regular basis. As such, it is important to visit these places in advance to confirm that doing business is feasible.

You'll also want to verify that 1) there is undeniable demand or growing need for your products, 2) you can engage with local distributors or sales agents who are native, speak the language, and understand market dynamics, 3) you understand the competitive landscape and can ensure your products will be fully understood, deemed credible, and perceived as desirable against more familiar brands and 4) you have verified all of the legal measures that must be in place for your products to efficiently enter the country.

There are a handful of issues that should be top of mind:
• Are English language presentations acceptable? Will I need to convert everything to the local language?
• How are products merchandized? The last thing you want to discover is that your 12-inch product will not fit on an 11-inch shelf.
• Is there an unfulfilled need? If there are plenty of options available, why would buyers consider your brand?
• What are the legal criteria that must be satisfied before products can enter the country?
• Can a workable price be set to offset the costs associated with export?

While exports can represent wonderful opportunity, there is a lot of work involved to launch an effective, and financially rewarding export program. It goes without saying that, to be successful, a little advance research will go a very long way.

Laughter is known to be good for the spirit and is an effective defense against illness. Ever since Abbot and Costello's "Who's on First," along with the likes of George Carlin, Eddie Murphy, Robin Williams, Don Rickles, and Richard Pryor to name a few, we've been advocates of great comedy. These are just a few more recent finds that we believe you will enjoy.




TOM PAPA
Live in New York City - In this 2011 performance, Papa transforms commonplace situations into laugh out loud humor.
JIM GAFFIGAN
Mr. Universe - The prolific and endearingly funny Gaffigan takes us on yet another hilarious and enjoyable stand-up adventure.
ILIZA SCHLESINGER
Freezing Hot - In her 2015 performance, Iliza gives us a fresh and undeniably funny outlook on dating and relationships.
D.L. HUGHLEY
Clear - Appearing in San Francisco in 2014, Hughley draws uproarious attention to politics, nosy neighbors and marijuana.
JIM JEFFERIES
This is Me Now - Jeffries, renown for his brash and shockingly unrestrained material, gives us one of his best performances.
MIKE BIRBIGLIA
What I Should Have Said Was Nothing - In his 2008 performance, Birbiglia reveals some of his most personal, and funny, secrets.

The time has come to stop messing around with uninspired and formulaic brand strategies and blah-blah marketing campaigns. You want to provoke desire and create a hunger that will have your buyers seeking you out and following your every move. You want a brand that inspires love. Deep, passionate, hot and sensuous. You want buyers to love your brand so much that it hurts.

Jeffrey Spear, President - Studio Spear and Jim Leland, Partner - Spark Inc. will be demonstrating ways to create brands that will be lovingly recognized and remembered as the most delightful and eagerly sought after. They'll also offer proven strategies and tactics that will provoke desire, attract buyers, and make them beg for more.

See us at the Florida Restaurant & Lodging Show on Monday, September 16. For more information, click here.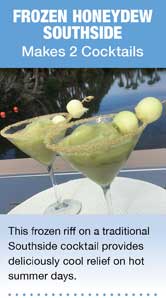 INGREDIENTS
2 C honeydew melon, cut into 1-inch cubes, frozen
1 C crushed ice
1/2 C gin, chilled
1/4 C mint leaves, loosely packed
2 T sugar
2 T water
2 T lime juice

DIRECTIONS
Combine all ingredients in a blender, processing until smooth. Pour into a martini glass rimmed with sugar; garnish with mint leaves.

If you would prefer not to receive future emails of Toast, please click here.

STUDIO SPEAR is a global branding agency specializing in consumer-oriented packaged goods and lifestyle-oriented brands.

We rely upon thorough research, strategic planning and emotionally charged creative solutions to produce significant and statistically proven growth for its clients. "It's our goal to enhance your product's reputation, generate higher levels of sales and see your brand outperform its competition," says Spear.

If you'd like to learn more about what Studio Spear can do for you, call, write or email Jeff Spear at:

STUDIO SPEAR
PO Box 51291
Jacksonville Beach, FL 32240
Phone: 904 685 2135
www.studiospear.com
jeff@studiospear.com