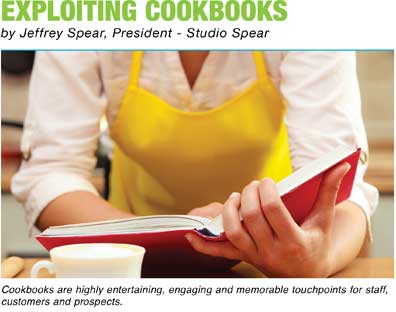 What happens after you've established a strong and viable brand? Your customers already know and love what you have to offer and are loyal patrons. To expand the value of your brand, there are lots of ways to give brand advocates new and exciting ways to engage.

In response to the unquestionable popularity of celebrity chefs, food TV, restaurants and food preparation, cookbooks have become an effective way to extend the vitality of a brand - even if the business is not food related.

For businesses that operate in foodservice, food manufacturing or food retailing, having a cookbook makes perfect sense. For companies operating outside of culinary industries, cookbooks become entertaining and engaging touchpoints for staff, customers and prospects.

All this being said, cookbooks are not without their challenges. Here are some important aspects to consider:
• Anticipate what you expect from a branded cookbook before you invest time and money.
• While cookbooks can function as a valued culinary tool, souvenir or keepsake premium, tailor your book to suit your key audience and their preferences.
• Make sure you have an appropriate budget to achieve your marketing objectives. This should include copywriting, design, photography, printing and shipping.
• No matter how well known your company may be, your book should appeal to the senses, attract attention and make readers hungry.
• Make sure every recipe is thoroughly tested, well written and easy to follow.

Ultimately, cookbooks provide opportunities for people to connect with your brand at home. Whether given as gifts, used in the kitchen, or simply displayed on coffee tables, you have the opportunity to build new and lasting impressions. Assuming the collective experiences generated by this book produce favorable outcomes, your brand will be significantly enhanced.

Studio Spear has the creative capacity to enhance your brand and culinary training to support the creation of your own branded cookbook. For more information, please call Jeff Spear at 904 685 2135 or send an email to: jeff@studiospear.com

With summer vacations just around the corner, these are some of the books we believe you'll enjoy. They are delightful confections perfectly suited for the beach, by the pool, under a nice shady tree, or on the couch - wherever you go to relax and restore.




A MAN CALLED OVE
A charming tale of a grumpy old man trying to overcome the loss of his wife and survive the "improvements" taking place in his neighborhood. Encounters with overly chatty neighbors and a pesky cat make this an enjoyable and heartwarming story.
JUST ONE DAMNED THING AFTER ANOTHER
Historians travel time to reveal the truth about history - to witness and accurately record major historical events while they are taking place. They soon find there's no room for missteps.
COOKING FOR PICASSO
Set on the French Riviera in 1936, Ondine enters into a youthful adventure while cooking for Pablo Picasso. Jump forward to present day New York where her heirs learn considerably more.
IF I NEVER GET BACK
Sam Fowler is in a dull job and failing marriage. Finding himself abruptly transported back in time, he meets America's first pro baseball players, Mark Twain, and the love of his life.
RULES OF CIVILITY
Written by Amor Towles (A Gentleman in Moscow), this novel follows Katey Kontent as she navigates high society, romantic encounters, and professional challenges in post-depression New York.
AN ASTRONAUT'S GUIDE TO LIFE ON EARTH
Becoming an astronaut is a lifelong endeavor for Colonel Chris Hadfield. In this book, he provides revealing details about his life and times at NASA and aboard the International Space Station.

There's a lot of psychology that goes into defining value. It starts with a price, then backing up that number with deliverables that provide a better overall experience, increase the perceived status and/or self esteem of the buyer, or satisfies a specific and pressing need. While a higher price does not necessarily mean better quality or performance, it's important to understand the difference between cost and value.

All too frequently, lower priced offerings fail to meet expectations, satisfy needs, or have any real enduring value. Alternatively, higher priced goods and services, in many cases, offer quality, durability and levels of satisfaction that are rarely matched by lower priced alternatives. There's a big difference between Lungfish and Lobster, Fiat and Ferrari, Red Roof and Ritz Carlton.

While purchasing decisions made at the supermarket have limited impact, buying high ticket items such as cars and houses have significantly longer lasting ramifications. The same can be said when hiring service providers to support and promote your brand.

Knowing that potential clients expect more in terms of transparency and integrity, companies readily offer detailed information about their depth of experience, credentials, achievements and reliability. You'll also want a provider that demonstrates an undeniable enthusiasm and a willingness to partner, not just someone eager to take your money and run.

Ultimately, you'll want to do your homework, validate claims, make comparisons, confirm relevancy, and get references. The last thing you want is disappointment. No doubt you've heard it before "You get what you pay for."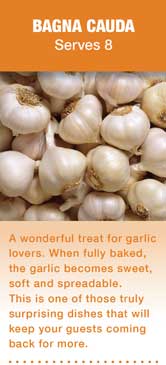 INGREDIENTS
1 1/2 C garlic cloves, peeled
1 C extra virgin olive oil
2 oz. butter
2 oz. anchovies (1 tin)
1 baguette, sliced

DIRECTIONS
Preheat the oven to 275° F

Place all of the ingredients in a small oven-proof casserole, cover and bake for 1 1/2 hours. When done, remove from the oven and serve while hot.

Serve with lots of sliced bread for dipping and scooping up the baked garlic and hints of anchovy.


If you would prefer not to receive future emails of Toast, please click here.

STUDIO SPEAR is a global branding agency specializing in consumer-oriented packaged goods and lifestyle-oriented brands.

We rely upon thorough research, strategic planning and emotionally charged creative solutions to produce significant and statistically proven growth for its clients. "It's our goal to enhance your product's reputation, generate higher levels of sales and see your brand outperform its competition," says Spear.

If you'd like to learn more about what Studio Spear can do for you, call, write or email Jeff Spear at:

STUDIO SPEAR
PO Box 51291
Jacksonville Beach, FL 32240
Phone: 904 685 2135
www.studiospear.com
jeff@studiospear.com