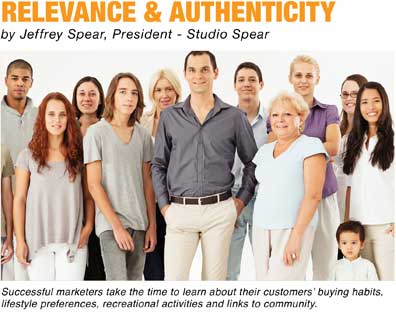 Back in the mid-nineteenth century, makers of patent medicines would make claims and offer incentives that genuinely appealed to their audience. Unfortunately, their offers were often fictitious, and their products rarely lived up to expectations. Conditions are considerably improved today.

While manufacturers must comply with government regulations and packaging standards to enter the marketplace, consumers are demanding even more. Recognizing that they are considerably better informed, lead healthier lives, and have little time or patience for subterfuge, savvy marketers are becoming increasingly more responsive, transparent, relevant and authentic.

One of the most visible ways in which consumers have influenced industry is advocacy and support of fair trade practices. Most apparent in coffee, chocolate and handicrafts, consumers are becoming more demonstrative regarding the inequities between marginalized producers in developing countries and the companies that employ them. Producers have taken notice, many becoming active members of the World Fair Trade Organization and other such institutions as part of an overall effort to become more transparent, demonstrate respect, improve trading conditions, and enhance their reputation.

There has also been significant change in the way in which seafood is brought to market. With fraudulent species claims, revelations linked to slave labor practices, poorly maintained aquaculture operations, and widespread over-fishing, there is increasing acceptance of more responsible, sustainable, and environmentally protective practices throughout the industry. For legitimate seafood producers, and as part of their effort to take a leadership approach to operations, they are acquiring certifications from the Marine Stewardship Council and Best Aquaculture Practices and supporting organizations including the Sustainable Fisheries Partnership and Monterey Bay Aquarium Seafood Watch.

When it comes to traceability and authenticity, the idea of "farm to table" is nothing new. That being said, increasing numbers of consumers, young and old, want to know where their food comes from, how it's produced, and who is responsible for its overall quality and integrity. While fine dining restaurants have been championing this cause for years, we are seeing operators in the fast-casual sector, both large (Chipotle) and small (Sweetgreen), embracing these concepts.

Along with food integrity and traceability, and with healthier lifestyles prevailing, we are also seeing consumers seek out foods that provide significantly greater nutritional impact. As such, they are moving away from industrialized brands; seeking out and supporting brands that understand and demonstrate a vested interest in higher quality and higher integrity production. These are the companies that tend to be smaller, family run, artisanal, closer to home, environmentally responsible, and sustainable.

As with the manufacturers of patent medicines, there are still producers who view authenticity and relevance as marketing buzzwords that can be used without substance to mislead buyers. The good news is that the most successful marketers, and the most respected brands, have found ways to genuinely embrace and apply authenticity and relevance across every aspect of their operations.

Our work allows us to experience new foods, learn about esoteric ingredients, and test new recipes. When it comes to recipe formulation, many of the tasks we undertake in the kitchen are made significantly easier and more enjoyable by exceptionally well crafted and designed culinary tools. For this issue of TOAST, we thought we'd feature a few of our favorites.




ISI GOURMET WHIP CREAM WHIPPER
There's no need to buy pre-made and often artificial whipped cream from the supermarket. With this device, and three ingredients (cream, sugar, vanilla), you have freshly made whipped cream in seconds.
JOIE STRAWBERRY HULLER
We've found several devices designed to efficiently remove the leafy tops from strawberries without too much fuss. While a few others work, this one is the simplest, most efficient, and easiest to clean.
ZYLISS SUSI 2 GARLIC PRESS
If you're looking for a quick and easy way to mince garlic, then look no further. You simply place the whole, unpeeled garlic clove into the press and squeeze away. This is one of our most cherished kitchen gadgets.
3-D ELEPHANT COOKIE CUTTERS
Made by Suck UK, these impressive elephant shaped cookies will delight everyone at the table. Easy to make, loads of fun, and an undeniable conversation starter. Part of a safari-themed collection, check out the lion, hippo and giraffe.
FOX RUN LEMON JUICER
There are lots of copy-cat devices out there, most more expensive and over designed. This basic tool is all you need to efficiently and completely juice lemons and limes. If orange juice is your thing, get the slightly larger orange juicer.
SWING-A-WAY CAN OPENER
There's nothing fancy about the Swing-A-Way can opener. Reliable from day one, this classic kitchen gadget has been one of our most treasured. While there are several models to choose from, the Comfort Grip is our favorite.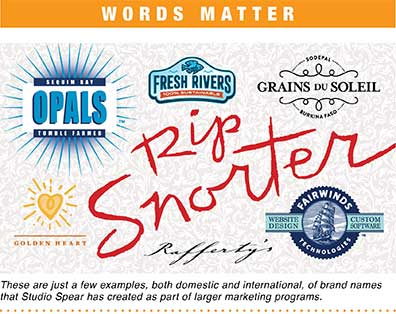 With competition in ever increasing numbers, finding ways to cut through the clutter, attract attention and create preference is a marketers' greatest challenge.

For consumer brands, having a distinctive, attractive and appealing package that offsets competitive threats is essential. After that, and whether you are selling to consumers or trade audiences, having well-articulated sales messages, a unique selling proposition and compelling value statements are imperative.

No matter where the point of contact occurs, buyers are impatient. If your key audience has to spend too much time deciphering what you have, what it does, or why they should buy it, they will simply walk or click away. Accordingly, the messages you employ throughout your marketing program must be engaging, efficient, memorable, and relevant.

Whether domestic or international, Studio Spear has the creative talent and depth of experience to craft competitive, compelling and effective sales messages. From brand names, tag lines and compelling product descriptions to sales literature, advertising, and websites, we've got you covered.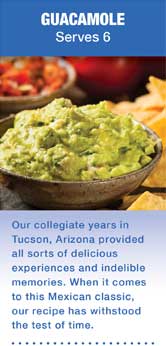 INGREDIENTS
1/2 C ripe tomatoes, diced
1/3 C red onion, diced
1 T cilantro, chopped
2 T lime juice
1/2 tsp garlic, minced
1/2 tsp salt
1/2 tsp cumin
4 ripe avocados
Tabasco, to taste

DIRECTIONS
In a large bowl, mix together the tomatoes, onion, cilantro, lime juice, garlic, salt, and cumin.

Cut the avocados in half, remove the seed, scoop out the flesh and add to the mixture. Using a fork, mash the avocado with the vegetables and mix thoroughly.

Add Tabasco, additional salt and/or lime juice, to taste.

Refrigerate for 2 to 4 hours. Adjust seasoning, as needed, before serving.


If you would prefer not to receive future emails of Toast, please click here.

STUDIO SPEAR is a global branding agency specializing in consumer-oriented packaged goods and lifestyle-oriented brands.

We rely upon thorough research, strategic planning and emotionally charged creative solutions to produce significant and statistically proven growth for its clients. "It's our goal to enhance your product's reputation, generate higher levels of sales and see your brand outperform its competition," says Spear.

If you'd like to learn more about what Studio Spear can do for you, call, write or email Jeff Spear at:

STUDIO SPEAR
PO Box 51291
Jacksonville Beach, FL 32240
Phone: 904 685 2135
www.studiospear.com
jeff@studiospear.com