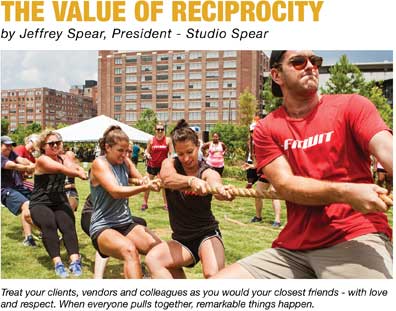 Reciprocity has been described in many ways. In business parlance, it's stated "If you'll scratch my back, I'll scratch yours." In simpler terms, it is described as a "win-win" scenario. The sad truth is that, with increasingly heavy work burdens coupled with demanding obligations at home, marketers find very little time to build new relationships and establish the trust needed to generate meaningful outcomes.

For those of you eager to build great brands and enhance productivity, embracing reciprocity is essential. Some of the key elements that come to mind that contribute effectively are positivity, integrity, kindness, authenticity, transparency, honesty, cooperation, respect and a commitment to excellence.

Rather than taking short cuts, avoiding phone calls, and ignoring emails, invest a couple of minutes to take a closer look and build relationships. If someone is offering a meaningful product or innovative service that could improve workplace performance, it's worth your while to investigate further. Before you say no, make sure you know exactly who and what you are refusing.

Going one step further, if you have established meaningful vendor relationships, it may be beneficial to include them in your decision making processes. Even if their involvement is peripheral, creating a culture that is inclusive and invites outside perspectives, builds friendships, promotes reciprocity and will work to your advantage.

According to Fast Company, there's nothing worse than an organization with a bad culture - an environment populated by negative personalities, closed doors, and closed minds that stifle growth, derail innovation and minimize results. Similarly, according to recent findings by Forbes, a great culture includes a workplace where everyone wants to hang out together, even after the day's work is complete.

We learned, soon after opening our doors. that if you want to be successful, surround yourself with the best talents you can find, be receptive to new ideas, invite multiple perspectives and demonstrate a willingness to take risks. At Studio Spear, we've taken all of these issues to heart, accounting for our operational longevity and creative success. That's also why we've maintained wonderfully productive and enjoyable relationships with our clients and vendors - in many cases lasting for years.

There is nothing like working with organizations that embrace a positive and enthusiastic attitude - creating outcomes where employees and vendors alike take pride in their achievements. You'll be amazed that, even in marketing circles, these attributes contribute effectively to great brands and meaningful enterprise growth.

If you'd like to improve your workplace culture and increase the performance of your brands, we'd be delighted to help. Simply contact us. Alternatively, you can reach out to Jeff Spear at: 904 685 2135 or by email: jeff@studiospear.com. Either way, let's set up a meeting to learn more about your branding challenges and ways in which Studio Spear can overcome them.

Just in time for the holidays, we've uncovered some of the best rums around. While our investigations are ongoing, these are the one's we've found incredibly enjoyable (and affordable)… so far. Of course, these are all sipping rums. On the rocks is wonderful. No mixers please. If you are looking for a holiday gift, look no further.




PYRAT
Pyrat is a rich blend of Caribbean rums, aged up to 15 years in used American sweet oak barrels, sweeter than others with distinctive notes of molasses and caramel.
EL DORADO 15
A nose packed with dark coffee, candied orange, almonds, dark chocolate, pepper and vanilla. On the palate, a spread of flavors including grilled tropical fruit and smooth oaky spice.
ZACAPA 23
Wonderfully intricate with honeyed butterscotch, spiced oak and raisined fruit, showcasing the complexity of the Sistema solera aging process.
PLANTATION BARBADOS 5-YEARS
A blend of rum from Barbados displaying complex and well-balanced notes of ripe tropical fruits and vanilla, along with delicate hints of peach and coconut.
DIPLOMATICO RESERVA EXCLUSIVA
This is an elegant and complex sipping rum with notes of maple syrup, orange peel, brown sugar and licorice with sweet toffee fudge on the palate.
THE REAL MCCOY 5-YEAR
Aged in American oak bourbon barrels, there is oak, dried fruit, brown sugar, and vanilla on the nose; caramel, toasted almond, and cinnamon on the palate; and a lingering finish of toasted coconut and tobacco.
PAPA'S PILAR DARK RUM
Solera aged in bourbon barrels and port wine casks, then finished in Spanish sherry casks. This intriguing rum displays a complex and bold flavor with a long finish.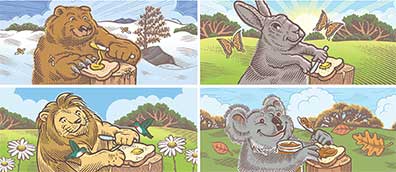 Studio Spear enjoys valued relationships with exceptionally talented illustrators, chefs, stylists, and photographers who bring light and life to the work we produce. Over these past 12 months, TOAST has been illuminated by a series of brightly colored and slightly whimsical renderings created by Michael Barnhart. We thought you'd enjoy seeing them as a set. Thanks Mike!

We'd also like to give thanks to our photographer extraordinaire - Vince Lupo, web guru - Jan Pilant, and master of all things culinary - Sally James. If you've seen any of the projects we've completed for Sea Best, Beaver Street Fisheries, or Jamestown Seafood, you've seen some of their amazing contributions. Thank you all so very much.

It goes without saying that Studio Spear would not exist were it not for its valued clients. To each and every one, it is an honor and privilege to work with you. Thank you! Thank you! Thank you!

Lastly, to everyone, we want to wish you peace, prosperity, happiness and joy for the holidays and into the new year ahead. Cheers!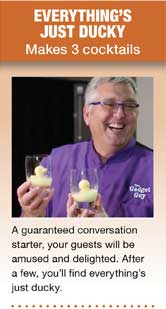 INGREDIENTS
3/4 C fresh orange juice
1/4 C heavy cream
1 tsp sugar
1/4 tsp vanilla extract
4 1/2 oz vodka
Rubber Ducky ice mold*

DIRECTIONS
Combine the orange juice, cream, sugar and vanilla in a 1-cup measuring cup. Gently stir until the sugar is completely dissolved.

Slowly pour this mixture into each of the three Ducky molds, making sure not to overfill. If you pour too much, use a spoon to carefully remove the excess - ensuring a flat bottom on each duck. Save any extra juice to make more duckies.

Place the Ducky mold into the freezer for at least 24 hours.

To prepare one drink, unmold a frozen ducky and place it in the bottom of a small cocktail tumbler. Pour 1 1/2 oz vodka over top, serve, and let the festivities begin.

* Rubber Ducky Ice Molds (set of 3) are made by Tovolo and can be purchased through Amazon.

If you'd like to share TOAST with a friend, click here.

You can also follow us on Facebook.

If you would prefer not to receive future emails of Toast, please click here.
STUDIO SPEAR is a global branding agency specializing in consumer-oriented packaged goods and lifestyle-oriented brands.

We rely upon thorough research, strategic planning and emotionally charged creative solutions to produce significant and statistically proven growth for its clients. "It's our goal to enhance your product's reputation, generate higher levels of sales and see your brand outperform its competition," says Spear.

If you'd like to learn more about what Studio Spear can do for you, call, write or email Jeff Spear at:

STUDIO SPEAR
PO Box 51291
Jacksonville Beach, FL 32240
Phone: 904 685 2135
www.studiospear.com
jeff@studiospear.com