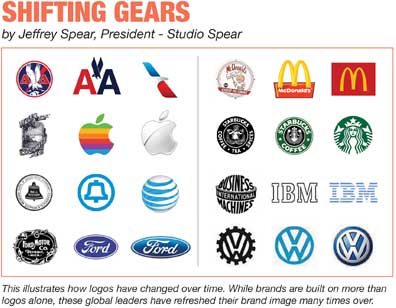 It's been said that, even if you're on the right track, if you sit still long enough, you'll eventually get run over.

The question to ask, from a marketing perspective, is... Have you been on the right track but sitting still for a bit too long? Although long-standing practices have served you well, it may be time to refresh your brand image and adopt a more competitive posture.

While you certainly don't want to dismiss valued brand equity and meaningful core philosophies, every brand has attributes that fall out of date and become irrelevant. Updated brands, whether it's a major overhaul or simply a little fine tuning here and there, become exciting and appealing all over again.

If you believe it's time to consider brand revitalization, here are a few principles that can help you guide the process:

Perform a Brand Audit Over the years, marketers tend to develop a variety of campaigns that may or may not adhere to the core principles and graphic standards originally set out in brand guidelines. This is especially true when a company has had several brand managers or marketing directors. Taking time to review what's been produced, what's being said, what's still in use, and quantifying inventories associated with these elements helps to define next steps.

Confirm Competitiveness In the time that has passed since your last brand update, competitors have come and gone, new technologies have intervened, and buyer preferences have shifted. To maintain a competitive edge, you'll want to confirm the leading competitors in your sector, the advantages they possess, and the threats they represent to your business. You'll also want to make sure your products and/or services have kept up with advances in the industry and remain relevant to key audiences.

Generate Excitement Based on the outcomes of your brand audit and competitive landscape evaluation, you'll want to find a way to make your brand, and all of its' functional touchpoints, as fresh and exciting as possible. Buyers are far more informed and expect much more from the brands they support today than they did just a few years ago. These days, making your brand experiential, engaging, memorable, and inclusive are all aspects that should be essential to whatever upgrades you make.

The bottom line is that, whatever you decide in the way of brand evolution and re-deployment, your actions should support well-defined growth strategies and respond to up-to-the-minute market dynamics. Making your brand as relevant as possible, engaging your audience, securing buy-in at every level, and showing appreciation should be your ultimate objectives.

As the saying goes "You don't need a map if you don't care where you're going." If, however, the idea of sustainability and enterprise growth are worthwhile objectives, a little open mindedness, in-depth research and creative thinking will work wonders.

If you believe the time has come to refresh, revitalize and increase the overall performance of your brand, Studio Spear would be delighted to help. Simply contact us. Alternatively, you can reach out to Jeff Spear at: 904 685 2135 or by email: jeff@studiospear.com. Either way, let's set up a meeting to discuss your brand, the challenges you've encountered, your vision for the future, and ways in which Studio Spear can support your agenda.

With warmer weather upon us, and relaxing visits to the beach more frequent, we thought you'd enjoy the companionship of a few worthwhile books. Here's what Groucho Marx had to say about books "Outside of a dog, a book is a man's best friend. Inside of a dog it's too dark to read."




SWIMMING HOME
Set in 1925, a young girl living on a bucolic Torres Straits island in Australia is relocated to the hustle and bustle of London. Never quite fitting in, she struggles with the British culture while striving to be the first woman to swim the English Channel.
SHUCKED
Ever wanted to know what it takes to run an oyster farm. This non-fiction tale follows Erin Byers Murray as she abandons her pampered city life to join the crew at Island Creek Oysters in Duxbury, Massachussetts.
THE PARIS ARCHITECT
Set in Paris during the Nazi occupation in 1942, this page turner tells the story of a gifted architect who reluctantly begins a secret life devising ingenious hiding places for Jews in World War II Paris.
A GENTLEMAN IN MOSCOW
Count Alexander Rostov has been placed under house arrest in the famed Metropol Hotel. In spite of his confinement, the Count lives an absorbing, adventure-filled existence with conspiracies, romance, and culture.
THE TUMBLING TURNER SISTERS
Set during the heyday of vaudeville, this endearing tale follows four sisters struggling to keep their family afloat, enduring the successes and failures of showbusiness in a world that has yet to recognize, respect and empower women.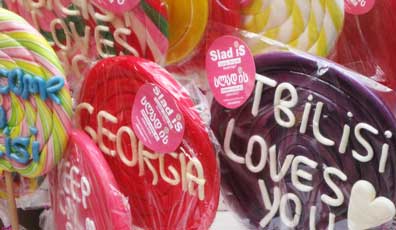 As part of the support that Studio Spear provides to its international clients, Jeff gets to consult directly on a number of private sector and government funded programs. Over the past few years, he has been working in this capacity with USAID's Georgia REAP (Restoring Efficiency to Agriculture Production), assisting with brand building, strategic marketing, cultural alignment of communications and export development for a variety of agribusiness sectors including dairy products, fresh fruits & berries, fresh herbs & vegetables, dried fruits, honey, tea, fruit juice and preserves as well as agricultural services including agricultural technologies, cold storage, and farm service centers.

While all of the statistics are not yet available, the work performed, and the results obtained, have been significant and rewarding. Since opportunities like this must never be taken for granted, and before the project reaches its planned conclusion, Jeff would like to extend his heartfelt thanks to everyone, especially Lou, Bauka, Irine, Victoria, Simone, Valeri, Maka, Alex and Mariam. Working with all of you has been a tremendous pleasure!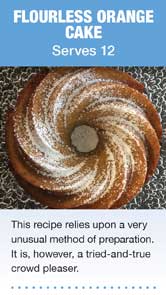 INGREDIENTS
2 oranges, washed
6 eggs
250g sugar
1 tsp baking powder
125g almond flour
125g almond meal
1/4 C confectioners sugar

DIRECTIONS
Fill a large pot with water and bring to a boil. Gently place the oranges in the water and boil for 2 hours. Make sure the oranges are completely covered in water throughout the process, topping off from time to time, as needed. When done, remove the oranges and allow to cool.

Place the whole cooked oranges in a food processor, processing until they are reduced to a puree. You'll only need 1 3/4 cups of puree. Discard any excess (or freeze for the next cake).

In a separate bowl, whisk together the eggs and sugar, then mix in the baking powder, almond flour, almond meal, and orange puree.

Pour the batter into a greased and floured Bundt pan. Bake at 375°F degrees for appx 45 minutes or until a toothpick removes cleanly. Cool thoroughly before removing from pan.

Dust each slice with confectioner's sugar, then serve.

Goes great with a scoop of vanilla ice cream.

If you'd like to share TOAST with a friend, click here.

You can also follow us on Facebook.

If you would prefer not to receive future emails of Toast, please click here.

STUDIO SPEAR is a global branding agency specializing in consumer-oriented packaged goods and lifestyle-oriented brands.

We rely upon thorough research, strategic planning and emotionally charged creative solutions to produce significant and statistically proven growth for its clients. "It's our goal to enhance your product's reputation, generate higher levels of sales and see your brand outperform its competition," says Spear.

If you'd like to learn more about what Studio Spear can do for you, call, write or email Jeff Spear at:

STUDIO SPEAR
PO Box 51291
Jacksonville Beach, FL 32240
Phone: 904 685 2135
www.studiospear.com
jeff@studiospear.com