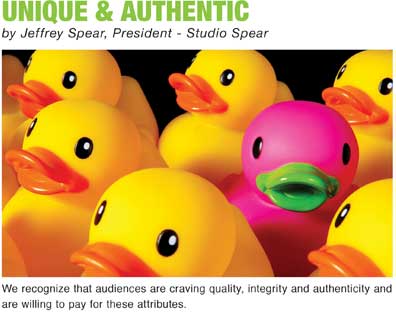 In today's increasingly competitive markets, finding ways to attract attention, compel sales and build loyalty has become a Herculean task.

For many operators, marketing concepts such as unique selling proposition (USP), cut-through, and relevance are sidestepped or overlooked completely in favor of lowest cost promotional programs that fail to perform to their fullest or deliver the greatest possible return on investment.

From a tactical perspective, and under these conditions, branded touchpoints such as packaging, tradeshow display, and websites appear generic and/or formulaic, do not resonate with key audiences, fail to create a competitive advantage, and lack the emotional appeal that's necessary to drive sales and support a sustainable enterprise.

Sadly, this is most apparent online. The number of template driven websites built upon open-sourced and low cost (or no cost) platforms such as Drupal and WordPress are staggering. Rather than build upon a well-conceived brand strategy and marketing plan and deliver distinctive and meaningful user experiences (i.e. Apple, Optimo Hats, Sea Best, Nike), these look-alike presentations are simply receptacles for generic and uninspired drivel.

At Studio Spear, we recognize that audiences are craving quality, integrity and authenticity and are willing to pay for these attributes. That's why we create unique brand experiences based on thorough research and a clear understanding of buyer preferences, competitive pressures, and market dynamics. Everything is emotionally engaging, content rich, and tailored to support fully-defined business and marketing objectives. This philosophy has served our clients well, allowing them to enhance sales, penetrate new markets, increase brand equity, build a loyal following, and grow their business.

If you'd like to increase the performance and overall value of your brands, we'd be delighted to help. Simply contact us. Alternatively, you can reach out to Jeff Spear at: 904 685 2135 or by email: jeff@studiospear.com. Either way, let's set up a meeting to learn more about your branding challenges and ways in which Studio Spear can overcome them.

Design comes in many shapes and can be engaging in many ways. When considering architecture, it is aesthetic, experiential and functional. These are just a few of the enduring structures we've encountered that rank at the top of our list for great design.


GUGGENHEIM - BILBAO
The Guggenheim Museum Bilbao, designed by Frank Gehry, is one of the most spectacular and groundbreaking designs we've ever seen. It is the driving force behind our desire to visit Bilbao. Photograph by David Heald. © The Solomon R. Guggenheim Foundation, New York.
SAGRADA FAMILIA - BARCELONA
The Sagrada Familia, designed by Antoni Gaudi, is a church of rare distinction. Started 135 years ago, and only 70% complete today, this remarkable edifice makes an unmistakable impression on the Barcelona skyline.
CENTRE POMPIDOU - PARIS
While most people want to see the Eiffel Tower, a visit to Paris should also include the Centre Pompidou. Designed by Renzo Piano, it is a building turned inside out - impressive, unique, provocative, engaging and thoroughly enjoyable.
WATTS TOWERS - LOS ANGELES
Created by Simon Rodia, the Watts Towers are a mesmerizing encounter in the heart of Los Angeles. Consisting of multiple sculptures, they are built using steel and mortar and adorned with a mosaic of broken glass, sea shells, generic pottery and tile.
BRIDGE OF PEACE - TBILISI
This remarkable pedestrian bridge, designed by Michele De Lucchi, is a noteworthy landmark in the center of Tbilisi. Walking under its wavy steel and glass canopy, and taking in the spectacular views on both banks of the Mtkvari River, is a memorable experience.

If you watch enough reality television, or focus too much on the way business is being conducted from the White House and other such political arenas, it would seem our culture has forgotten how to act in both business and social settings. While the expression "my way or the highway" seems to be the unwritten theme, and courtesy is anything but common, the good news is that there are still plenty of individuals who understand that productive human encounters are built upon mutual respect, trust and kindness.

For brand owners, it's important to remember that how you act influences the value of your brand and, ultimately, your bottom line. In retail settings, free shipping and no-questions-asked return policies are steps in the right direction. In the corporate realm, an efficient response to phone calls and emails is a good start. In all settings, demonstrating intelligence and compassion goes a long, long way.

We have already learned that inefficient recorded phone messages, an absence of human interaction, and service centers based in foreign countries contribute to customer frustration and tend to make indelible (negative) impressions. When you invest in human relations, provide adequate training, and empower representatives to listen, understand, and provide courteous, accurate and efficient service, your company's reputation... and your brand... is enhanced.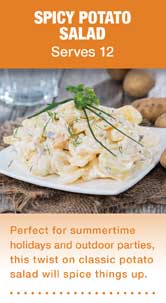 INGREDIENTS
4 lb red potatoes, peeled, cut into large dice
1 C mayonnaise
2 tsp cider vinegar
3 tsp dry mustard powder
1/2 tsp salt
1/2 tsp black pepper
1/2 C celery, finely chopped
Tabasco, to taste (optional)

DIRECTIONS
Place the diced potatoes in a large soup pot, adding enough cold water to cover by at least 1 inch. Bring to a boil, then simmer for approximately 15 minutes or until potatoes are just tender.

Drain potatoes in a colander, rinsing several times with cold water to stop cooking, then transfer to a large bowl and set aside.

In a small bowl, whisk together the mayonnaise, vinegar, mustard powder, salt and vinegar. Gently fold this mixture in with the potatoes until thoroughly incorporated, then cover and refrigerate.

After 3 hours, toss the potatoes and check for flavor, adding salt, pepper or any additional seasoning that may be desired. If you'd like it even spicier, add a little more mustard powder and a few dashes of Tabasco.

Return the salad to the refrigerator and chill for an additional 3 hours or overnight.

Toss again before serving.

If you'd like to share TOAST with a friend, click here.

You can also follow us on Facebook.


If you would prefer not to receive future emails of Toast, please click here.

STUDIO SPEAR is a global branding agency specializing in consumer-oriented packaged goods and lifestyle-oriented brands.

We rely upon thorough research, strategic planning and emotionally charged creative solutions to produce significant and statistically proven growth for its clients. "It's our goal to enhance your product's reputation, generate higher levels of sales and see your brand outperform its competition," says Spear.

If you'd like to learn more about what Studio Spear can do for you, call, write or email Jeff Spear at:

STUDIO SPEAR
PO Box 51291
Jacksonville Beach, FL 32240
Phone: 904 685 2135
www.studiospear.com
jeff@studiospear.com