You've probably heard something like "This is a limited edition." "Order while supplies last." or "Qualified buyers only." From a marketing perspective, creating exclusivity can be a powerful motivator. When you have an audience clamoring to join in, and there's a little bit of panic compelling them to act now, sales tend to be good. The key, however, is making sure your offer is emotionally charged, persuasive, and represents undeniable value.

WHAT EXACTLY IS EXCLUSIVITY? By definition, exclusivity suggests limited access. It's a hotly sought-after club that only certain people with specific credentials can join. In fashionable circles, it's haute couture - those one of a kind creations with exorbitant price tags that are considered best of breed. That's why the most stylish garments and most luxurious accessories typically end up on the backs, necks, feet and wrists of the rich and famous who frequent red carpet runways. They have sufficient wealth to afford this particular club's membership fees.

In other instances, exclusivity occurs in rarified environments where access is restricted and availability is limited. Just look at what happens when tickets for concerts (Rolling Stones, Barbara Streisand, Madonna, etc.) and sporting events (Super Bowl, World Series, etc.) go on sale. Obviously, there are limited number of performances as well as seats in the house, creating a sense of urgency to buy while seats are still available. Once again, sufficient wealth, or being well connected, enables your membership.

When it comes to consumer products, and considering this is the era of "artisanal" and "small batch" production, there may not be enough to go around or seasonal harvests limit the number of days in the year when products are available. To join this club, it's not so much how much money you have but being well informed, in the right place, and at the right time.

WHY DOES EXCLUSIVITY WORK? Provoking a significant emotional response is the key behind any successful marketing endeavor. To simply say "buy this" is not enough. Finding a way to appeal to the emotions and generate desirability, however, speaks volumes.

According to Sally Hogshead, author of "Fascinate Me," there are seven emotional triggers that create fascination and contribute to desirability that are the most powerful ways to capture an audience. These triggers include power, passion, innovation, alarm, mystique, prestige, and alert - all of which influence behavior and motivate us into action.

Exclusivity aligns with both alarm and prestige. When availability is defined by limited time or short supplies, and assuming desire has been established, the buyer thinks "If I don't buy now, I will miss out." Accordingly, a little bit of panic sets in that motivates immediate purchase.

Alternatively, some people want what others covet - those things that indicate they are part of the "in crowd" or one of the select few. When individuals with these desires own part of a limited edition, or have an experience that is limited to a privileged few, it triggers feelings of enhanced status and higher self-esteem.

It is important to remember that exclusivity is not always appropriate. If your offer lacks tremendous importance, relevance, or value, something other than exclusivity will be needed to provoke interest and drive sales.

The bottom line is that, in the right situations, exclusivity has the power to increase desire. And when desirability is established, there is pressure to buy and an opportunity to enhance the overall appeal of your brand.

Studio Spear has been provoking desire and building emotionally charged brands for more than 40 years. If you'd like to make your brand more influential and productive, give Jeff Spear a call: 904 685 2135 or send an email: jeff@studiospear.com.

We love getting mail. And while much of what we receive goes straight into the trash, we always look in the upper right-hand corner of the envelope to see what kinds of postage have been affixed. When you take the time to look, you'll find wonderful little splashes of color, design and illustration. At Studio Spear, we especially like stamps that feature food.


SUMMER HARVEST (2015)
Reminiscent of the labels that appeared on shipping crates in the 19th and 20th centuries, these nostalgic, colorful and delightful stamps celebrate some of America's favorite summer foods - corn, tomatoes, cantaloupes, and watermelons.
SODA FOUNTAIN FAVORITES (2016)
Soda fountains were popular in the 40s and 50s. While only a few remain, Americans continue to indulge in banana splits, root beer floats, and ice cream sundaes at home, in restaurants, and ice cream shops across the country.
DELICIOSO (2017)
For generations, Latin American foods and flavors have had distinct and wide-ranging influences on American cuisine. From empañadas and chiles rellenos to ceviche and flan, these dishes are as unique as the cultures they represent.

Studio Spear has been celebrating 40 years of operation throughout the year. If you follow us on Facebook, you've seen some of the more memorable people, places and things that were making a splash in 1977 when we first opened our doors.

This longevity, and the successes we've achieved, could not have been accomplished without the valued and inspired contributions made by our colleagues and contributors. Accordingly, we'd like to thank (in alphabetical order): Mike Barnhart, Dara Bunjon, Patrick Carter, Sally James, Dan Krause, Vince Lupo, Jan Pilant, Daryl Bunn, Terry Rankin, and David Starr. And since we'd all be sitting on our tails twiddling our thumbs without meaningful client engagements, we especially want to thank the individuals who gave our professional lives meaning throughout the year: Mohammad Attoun, Celeste Blackman, Bob Blackman, Bluzette Carline, Kurt Grinnell, Terri Grinnell, Bill Grant, Ellen Koteff, Cherie Lee, Samir Maree, Jorge Munoz, Nino Olgeshavili, Luke Oppelt, Shadi Shaheen, Cinda Sherman, Irine Salukvadze, Lee Smith, Rick Spear, Hanan Taha, Victoria Treski, and Lisa White. Hopefully we remembered everyone. We can never thank you enough. Our sincere apologies if we left you out - you know we still love you.

Additionally, and in the wake of hurricanes Irma and Maria that have devastated Florida and the Caribbean, we want to give thanks to all of the first responders and emergency workers who have assisted so many of our friends and neighbors. To show our support, and to help those less fortunate, Studio Spear has made donations to Feeding Northeast Florida and invites you to do the same.

Finally, and with the new year that's on the horizon, we want to wish you very happy holidays and a happy new year!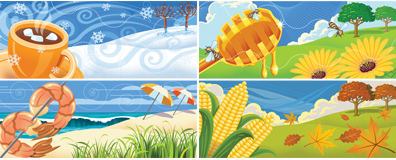 If you had not noticed, every issue of TOAST in 2017 was crowned by a beautifully rendered masthead illustration. Our profound and sincere thanks go out to Mike Barnhart for making TOAST (and Studio Spear) look so good. Thanks Mike!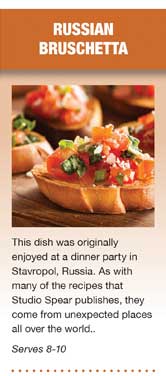 INGREDIENTS
1 C ricotta
3 cloves garlic, pasted
1/4 C mayonnaise
salt & pepper, to taste
3 T butter, softened
1 baguette, 1/2 inch slices
1 C red capsicum, small dice
1 C tomatoes, small dice
1/4 C basil, chiffonade*

DIRECTIONS
In a large mixing bowl, combine the ricotta, half of the garlic and mayonnaise, mix thoroughly, then add salt and pepper to taste.

In a small bowl, combine the butter with the remaining garlic.

To assemble, spread a little of the garlic butter onto each slice of bread, then place under a broiler for about 5 minutes or until nicely browned. Remove from the oven and allow to cool.

Spread a small amount of the ricotta mixture onto each slice of baguette, followed by a little capsicum and tomato. Sprinkle a few ribbons of basil over top and serve.

*NOTE: Chiffonade is a technique where you tightly roll a stack of basil leaves (or any large leafed herb), then cut the roll crosswise into very thin ribbons.

If you'd like to share TOAST with a friend, click here.

You can also follow us on Facebook.

If you would prefer not to receive future emails of Toast, please click here.

STUDIO SPEAR is a global branding agency specializing in consumer-oriented packaged goods and lifestyle-oriented brands.

The company relies upon thorough research, strategic planning and emotionally charged creative solutions to produce significant and statistically proven growth for its clients. "It's our goal to enhance your product's reputation, generate higher levels of sales and see your brand outperform its competition," says Spear.

If you'd like to learn more about what Studio Spear can do for you, call, write or email Jeff Spear at:

STUDIO SPEAR
PO Box 51291
Jacksonville Beach, FL 32240
Phone: 904 685 2135
Toll Free: 866 787 8761
Fax: 410 486 9492
www.studiospear.com
jeff@studiospear.com