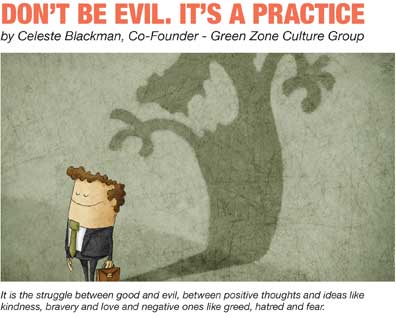 I get about a thousand invitations a day to be offended. All I need to do is pick up the paper or turn on the radio and in an instant I've encountered a dozen things that I don't agree with or don't like. I step out the door and immediately encounter people and things that aren't working the way they "should." And I remind myself, I have a choice. I can be offended by the imperfections of the world or I can choose something else. I am practicing the something else.

Everyday, I find myself choosing, over and over again, not to be offended by the vagaries of life. The uncontrollable and inevitable challenges that arise from living in a complex fast moving world. The invitations come regularly no matter what I do, but I have learned that I do not have to experience them as a personal affront.

I am reminded of an old Cherokee legend, a parable that illustrates this inner conflict we all struggle with on a daily basis. It is the struggle between good and evil, between positive thoughts and ideas like kindness, bravery and love and negative ones like greed, hatred and fear. In the story an old Cherokee is teaching his grandson about life. "A fight is going on inside me," he said to the boy.

"It is a terrible fight and it is between two wolves. One is evil - he is anger, envy, sorrow, regret, greed, arrogance, self-pity, guilt, resentment, inferiority, lies, false pride, superiority, and ego. The other is good - he is joy, peace, love, hope, serenity, humility, kindness, benevolence, empathy, generosity, truth, compassion, and faith. The same fight is going on inside you - and inside every other person, too."

The grandson thought about it for a minute and then asked his grandfather, "Which wolf will win?"

The old Cherokee simply replied, "The one you feed."

I confess, sometimes I feed the evil wolf, but my daily practice is to consciously feed the good one. And when I do, I like the results. My life is better and more joyful and that is a pretty good payoff for the practice.

I believe that if we are to solve the challenging problems that confront us today we all need to be less easily offended and more deliberate about how we show up and care for one another. I'm not suggesting that we ignore the issues of the day or pretend that everything is fine when it is not. I am suggesting that we become more discerning and less reactive. One approach to cultivating this discernment is to be more deliberate about which wolf we feed. Here are a few ideas if you want to practice with me.


| | |
| --- | --- |
| - | Get curious not furious. When things go wrong ask questions and seek to understand. |
| - | Listen sincerely to others, particularly those with a different point of view. |
| - | Look for shared interests and seek common ground. |
| - | Treat others with kindness and respect, particularly those with whom you disagree. |
| - | Guide your attention: consciously notice which wolf are you feeding. |
| - | Take action. Do something meaningful, at work, in your home or in your community. |
| - | Practice gratitude and appreciation. |

These are practices we teach in Radical Collaboration and Green Zone Thinking. Join us for a workshop and cultivate the mindset, the attitude and the skills to build more collaborative and productive relationships.

To learn more about Celeste Blackman, the Green Zone Culture Group and Green Zone Thinking, click here.

These are just a few of the movies we've watched that received favorable reviews. Don't bother with Jackie or Manchester by the Sea. We thought these films were awkward (Jackie) and exceptionally lifeless (Manchester).


LA LA LAND
A highly entertaining musical impressively directed by Damien Chazelle with engaging performances from Emma Stone and Ryan Gosling. Loved the opening dance sequence on the L.A. freeway.
ARRIVAL
A remarkable story that explores alien arrivals and the intelligent efforts made by global leaders to establish meaningful contact. This is truly engaging sci-fi fare.
PASSENGERS
If you like stories set in deep space, with a healthy dose of artificial intelligence, and have fantasized about being alone on a desert island with Jennifer Lawrence, this film is for you.
SULLY
Directed by Clint Eastwood, including another memorable performance from Tom Hanks, we witness the epic landing of US Airways Flight 1549 on the Hudson River.
FENCES
While the play comes to mind, the performances in this cinematic telling of Fences, starring Denzel Washington and Viola Davis, are equally engaging and not to be missed.

Way back in 1977, Studio Spear opened its doors and dreamed big. Starting in L.A., then on to Honolulu (Hawaii), Washington D.C., Melbourne (Australia), and Baltimore (Maryland), and currently operating from the beach in Jacksonville (Florida), we've had an enjoyable, creative and rewarding run. Looking back, these are just a few of the things that were fab and groovy all those years ago.


VALERIE BERTINELLI
Back in the day, Valerie was America's hottie. She certainly grabbed our attention. Sadly, and even though we were both based in Los Angeles, we never met.
POMPIDOU CENTER
This famous Parisian museum opened its doors in 1977. We'd like to think the works displayed in this museum, as well as what we've created at Studio Spear, are noteworthy.
STAR WARS
Back in 1977, Studio Spear opened its doors and this little tale of galactic conquest made Hollywood history. Seems we both had enough creative juice to survive the test of time.
SATURDAY NIGHT FEVER
Released in 1977, this movie, its best-selling soundtrack by the BeeGees, and John Travolta's starring role as Tony Manero, changed the way we danced.
MOOSEWOOD COOKBOOK
Forty years ago, this was the ultimate healthy living cookbook. Today, we still rely upon this acclaimed best-seller for simple, healthy, vegetarian and seasonal recipes.
QUEEN - WE WILL ROCK YOU
While music from the Beatles, Stones, Petty, Dead, J. Geils Band, and Fleetwood Mac have accompanied us throughout our four decades of operation, this was one of our original anthems.
ANNIE HALL
Played by Diane Keaton, her performance in Woody Allen's Oscar winning film, is one of the more memorable from 1977. Oh well. La di dah. La di dah.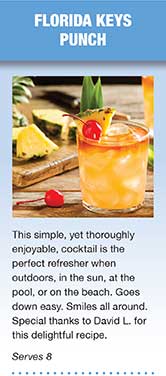 INGREDIENTS
46 oz. (1 can) pineapple juice
9 oz. dark rum
6 oz. banana liqueur
ice
8 slices fresh pineapple (for garnish)
8 cocktail parasols (for garnish)

DIRECTIONS
Combine the pineapple juice, rum, and banana liqueur in a pitcher and stir.

Fill cocktail tumblers with ice, add enough Punch to fill the glass, garnish with a slice of pineapple and add a parasol. Bottoms up!

NOTE: If your guests are like mine, you'll need to make a double batch of this stuff.

If you'd like to share TOAST with a friend, click here.

You can also follow us on Facebook.

If you would prefer not to receive future emails of Toast, please click here.

STUDIO SPEAR is a global branding agency specializing in consumer-oriented packaged goods and lifestyle-oriented brands.

The company relies upon thorough research, strategic planning and emotionally charged creative solutions to produce significant and statistically proven growth for its clients. "It's our goal to enhance your product's reputation, generate higher levels of sales and see your brand outperform its competition," says Spear.

If you'd like to learn more about what Studio Spear can do for you, call, write or email Jeff Spear at:

STUDIO SPEAR
PO Box 51291
Jacksonville Beach, FL 32240
Phone: 904 685 2135
Toll Free: 866 787 8761
Fax: 410 486 9492
www.studiospear.com
jeff@studiospear.com