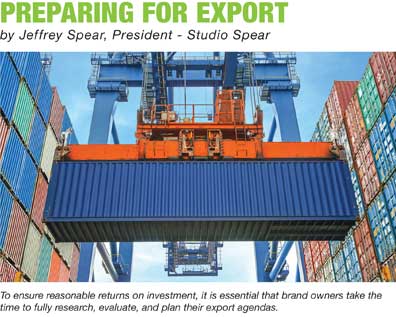 When domestic sales opportunities have been fully exploited, and market penetration has reached saturation, savvy brand owners have realized meaningful enterprise growth through exports.

Based on population alone, many countries represent opportunities that are equal to, or many times larger, than those found at home. This being said, and to ensure reasonable returns on investment, it is essential that brand owners take the time to fully research, evaluate, and plan their export agendas.

In the course of developing export programs for companies around the world, Studio Spear has identified specific operational issues and marketing practices that are crucial for entry into foreign markets.

CONDUCT THOROUGH RESEARCH The first thing we recommend is an intensive visit to the country or region identified as your sales target. When you meet with retailers, evaluate trading practices, identify influential media, develop local contacts and get a first-hand understanding of the competitive landscape, you can better align your offer, implement meaningful sales and marketing programs, generate interest from key audiences and position your brand well ahead of its nearest rival.

SATISFY A NEED Just because your products sell well at home does not mean they will perform equally well overseas. Even if your product is considered best of breed, quality is subjective and cannot ensure success. In some cases, effective export programs are built entirely on appealing price structures, responsive customer service, and significant investments in promotional activity.

PLAN AHEAD Successful export programs do not happen overnight. While participating in trade shows will help open markets, it takes a significant amount of time to launch and sustain a meaningful brand presence. Even after several years, brand building could fall short of projections and require further investment. Should you decide to move forward, you'll want to prepare a 3-year marketing plan to guide the process. Remember, introducing new products and new brands overseas is not a sprint. It's a marathon.

SET PROPER BUDGETS Entering new markets is anything but cheap. When you consider 3 to 6 in-person visits per year, the cost of airfare and accommodations alone is significant. Add in costs for a sales team, trade shows, updated packaging, public relations, new product formulations, shipping, warehousing and related sales and marketing tie-ins, having accurate projections and well formulated operating budgets is essential.

SPEAK THEIR LANGUAGE When introducing new brands on foreign soil, cultural alignment requires more than just translation. When sales programs and key brand messages embrace indigenous themes and are culturally relevant, your brands are better positioned to capture the attention, and heart, of key buyers in targeted markets.

BE MARKET READY Every aspect of product development, packaging, compliance, logistics, warehousing, and distribution must be fully resolved before you schedule your first sales meeting. You'll also need comprehensive product descriptions, samples, pricing guidelines and an outline of the promotional support you will bring to the engagement.

When you've done your homework, you can eliminate many of the stumbling blocks that interrupt or delay buying decisions. Communication becomes more efficient, the sales cycle is shortened, market penetration is facilitated and your export program becomes operational.

If you are eager to increase sales and believe exports are what you need, Studio Spear has the strategic and creative talent to help you implement a truly global brand and penetrate international markets. For more information, call: 866 787 8761 - ask for Jeff Spear. You can also contact Jeff via email: jeff@studiospear.com.

THE SILVER PALATE COOKBOOK
A great book for cooks of all stripe. 350 delicious, easy to prepare recipes for every occasion, complete with helpful tips and culinary insights.
THE COMPLETE ASIAN COOKBOOK
With more than 800 recipes from every corner of Southeast Asia, this book is a great way to explore, become familiar, and develop capacity with Asian cooking.
THE BARBECUE! BIBLE
If you want to learn everything there is to know about grilling and barbeque, there is no better resource (and every other book written by Stephen Raichlen)
PLENTY
It seems that every cookbook written by Yotam Ottolenghi is greeted with rave reviews. This is the one that started it all.
ESSENTIALS OF CLASSIC ITALIAN COOKING
According to my culinary colleagues, anything written by Marcella Hazan about Italian cooking is worthwhile. This is just one of many books she has written.

No matter how commonplace, there is always someone who has failed to learn the options that are available when sending emails. Since this is a constant irritation, and poorly addressed emails can open the door to unwanted solicitations, please remember:

There are three ways to address your emails - TO, CC and BCC. If you are sending an email directly to a colleague, his or her email address goes in the TO field. If you want a few others, usually 4 or 5 individuals in the same organization or group working on the same project, to see the communication, address the email TO your primary contact and CC (Carbon Copy) everyone else. If you are sending to a large group of individuals, especially if they are not working within the same organization, be sure to address the email TO yourself and place all the other names in the BCC (Blind Carbon Copy) field.

Should you have the misfortune of receiving an email where a long list of names appears in the TO or CC field, and when you reply, make sure you reply only to those individuals who actually need to receive your reply. If you insist on using the "reply to all" function, please do so judiciously.

It's also important to realize that, when your email is poorly addressed, and even if it is ignored or deleted, it creates impressions about you and your organization. The last thing you want is to have your reputation tarnished simply because you do not understand proper email etiquette.

As the saying goes, better safe than sorry.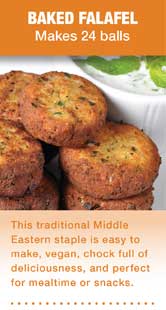 INGREDIENTS
2 (15 oz.) cans chickpeas, drained
1/2 C red onion, roughly chopped
2 T fresh parsley, chopped
2 T fresh cilantro, chopped
1 tsp salt
1/2 tsp crushed red pepper
4 cloves garlic, smashed
1 tsp cumin
1 tsp baking powder
6 T flour
peanut oil

DIRECTIONS
Preheat the oven to 375F degrees.

Place the chickpeas, onion, parsley, cilantro, salt, pepper, garlic, and cumin in a food processor and pulse until a slightly coarse texture is achieved.

Transfer the mixture to a large bowl, mix in the baking powder and flour, then cover and refrigerate for at least 4 hours or overnight.

Lightly oil a baking sheet with a small amount of peanut oil.

Using your hands, scoop out enough of the falafel dough to create 1-inch ball, press into a patty and place on the baking sheet. Repeat this process until all the dough is used up.

Bake the falafel for 10 - 15 minutes. Once the top side has browned, flip the patties over and bake for an additional 10 - 15 minutes. When fully browned, remove from the oven and serve.

Falafel are best enjoyed in a pita, served with thinly shaved lettuce, tzatziki, hummus, chopped tomatoes, and chopped cilantro.
If you'd like to share TOAST with a friend, click here.

You can also follow us on Facebook.

If you would prefer not to receive future emails of Toast, please click here.


STUDIO SPEAR is a global branding agency specializing in consumer-oriented packaged goods and lifestyle-oriented brands.

The company relies upon thorough research, strategic planning and emotionally charged creative solutions to produce significant and statistically proven growth for its clients. "It's our goal to enhance your product's reputation, generate higher levels of sales and see your brand outperform its competition,î says Spear.

If you'd like to learn more about what Studio Spear can do for you, call, write or email Jeff Spear at:

STUDIO SPEAR
PO Box 51291
Jacksonville Beach, FL 32240
Phone: 904 685 2135
Toll Free: 866 787 8761
Fax: 410 486 9492
www.studiospear.com
jeff@studiospear.com