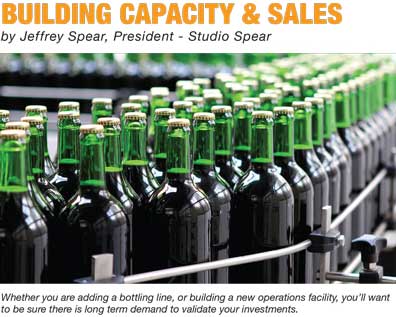 When demand exceeds supply, increasing operational capacity makes a lot of sense. You certainly don't want buyers taking their business elsewhere, simply because you cannot keep up with orders.

In addition, smaller operations may be missing out on orders for no other reason than limited capacity. These are both good reasons to consider expansion, although you'll want to be sure there will be sufficient and long term demand to cover your investments.

Keep in mind that, just because you've increased operational capacity, there are no guarantees that you will see immediate increases in sales volumes and annual revenues. You will also need to increase sales activity by identifying and exploring new markets, confirming and proving value, and creating undeniable appeal for key buyers.

If you are relying on exports to increase sales, it helps to identify those countries with a buying population receptive to your offer. This could be decided by research - taking note of obvious needs, cultural similarities, distances from your factory, costs of delivery, projected demand, or ease of doing business. When you focus your attention on these carefully defined markets and attributes, you can better channel and manage your marketing activities and set expectations for meaningful return on investments.

From a marketing perspective, and in all cases, you'll want to be sure your brand is visible, understood, valued and trusted. This requires a strategic and tactical approach that maintains constant, relevant, appealing and engaging contact with buyers.

For existing customers, you'll want to implement promotional activity that retains their business - rewarding loyalty and finding new ways to keep the relationship fresh and vital. At the same time, you'll need to entice new customers with an appealing and competitive brand presence and provocative sales incentives.

At Studio Spear, we rely on market research to identify key audiences and the issues that must be communicated to win their business. With this information, we organize wide reaching public relations, an engaging online presence, targeted advertising campaigns, impactful participation at trade shows, and other such tactics to enhance brand appeal and influence sales.

An important note for producers of packaged goods: In many markets, it is prudent to update or even completely overhaul brand imagery and on-shelf presentations. At the very least, there may be government imposed compliance issues that must be addressed that will impact the printing of your labels. Since this impacts manufacturing, doing your homework in advance of factory expansion is prudent.

The bottom line is that, just because you make investments in infrastructure and increase capacity, there are no guarantees that a proportionate increase in sales will follow. To be truly successful, there needs to be a well managed, consistent and ongoing sales and marketing effort.

If you have newly expanded and/or untapped capacity, are eager to increase sales, but lack the brand presence to attract attention and offset competitive threats, Studio Spear has the strategic and creative talent to help you satisfy these objectives. For more information, call: 866 787 8761 - ask for Jeff Spear. You can also contact Jeff via email: jeff@studiospear.com.

FANNIES LAST SUPPER
While the meal is an extravagant indulgence, it's interesting to learn how this exceptional culinary team deciphers and prepares recipes from the mid-1800s, relying upon tools and techniques from that era.
WHEN FRENCH WOMEN COOK
This book tells stories and reveals details about regional French home cooking in a manner that is both educational and entertaining.
A YEAR IN PROVENCE
While we are on the subject of French cooking, enjoy this tale of travel, home renovations, cooking and camaraderie that winds its way through the French countryside.
UNDER THE TUSCAN SUN
If French food is not your thing, perhaps this story set in the Tuscan countryside, complete with tales of local wanderings, home renovation and culinary discovery is more to your liking.
RECIPES FOR LOVE AND MURDER
A delicious crime set in rural South Africa, full of humor, romance, and recipes and featuring a charming cast of characters. If you've enjoyed The #1 Ladies Detective Agency, this book is for you.

As much as we enjoy roller coasters, we are glad to get off the thrill ride called "2016." The good news is we've survived, allowing us to happily begin our 40th year of operation - continuing our tradition of world-class branding solutions for clients around the world.

None of this would be possible without our valued clients, talented creative team and caring friends. So, as we start a new decade of creative excellence, we want to take time to say thanks. We'd like to extend a special thanks (in no particular order) to a few folks who made 2016 especially enjoyable and productive: Terry & Jim, Louis S., Rick & Sue, Terri & Kurt, Jan P., Jorge M., Sally J., Vince L., Bluzette, Lesley V., Lou F., Irine S., Nino O., Katie A., Bob & Celeste, Dara B., Patrick C., Lee S., Ellen K., Dan K., Cuan, Cinzia, Mark M., Titus K., Bob R., Mark S., Matthew K., Cinda S., Karén I., Martin W., Mike B., Daryl B., Greg & Rita, Mike R., Felix & Lois, Duncan H., Kevin G., and Nan K. Thank you for your grace, intelligence, love, patience, understanding, and friendship.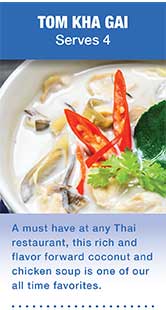 INGREDIENTS
1 lb skinless, boneless chicken breasts, cut into 1/4-inch strips
1/3 C Thai fish sauce
3 C chicken stock
2 T sambal oelek
2 T palm sugar (or light brown sugar)
2 kaffir lime leaves, chiffonade
2 stalks lemongrass, cut on the bias, 1-inch lengths
28 oz (two cans) unsweetened coconut milk
1 C shiitake mushrooms, thinly sliced
1/4 C lime juice
2 birdseye chiles, very thinly sliced
Kosher salt, to taste
1/3 C cilantro leaves, for garnish
4 lime wedges, for serving

DIRECTIONS
In a medium bowl, combine the chicken and fish sauce. Set aside.

In a medium saucepan, combine the stock with the sambal, sugar, lime leaves and lemongrass and bring to a boil over moderately high heat. Stir in the coconut milk and simmer for 5 minutes.

Add the chicken mixture and mushrooms and simmer for another 5 minutes, until the chicken is fully cooked. Stir in the lime juice and chiles. Season with salt, as needed, to taste.

Ladle equal amounts of the soup into 4 bowls, then garnish with cilantro. Serve with lime wedges on the side.

If you'd like to share TOAST with a friend, click here.

You can also follow us on Facebook.

If you would prefer not to receive future emails of Toast, please click here.

STUDIO SPEAR is a global branding agency specializing in consumer-oriented packaged goods and lifestyle-oriented brands.

The company relies upon thorough research, strategic planning and emotionally charged creative solutions to produce significant and statistically proven growth for its clients. "It's our goal to enhance your product's reputation, generate higher levels of sales and see your brand outperform its competition," says Spear.

If you'd like to learn more about what Studio Spear can do for you, call, write or email Jeff Spear at:

STUDIO SPEAR
PO Box 51291
Jacksonville Beach, FL 32240
Phone: 904 685 2135
Toll Free: 866 787 8761
Fax: 410 486 9492
www.studiospear.com
jeff@studiospear.com