With fierce competition in ever increasing numbers, finding ways to cut through the clutter, attract attention and create preference is a brand owners' greatest challenge. For producers of FMCG (Fast Moving Consumer Goods) brands, and understanding that packaging is the #1 brand ambassador, having a distinctive, attractive and appealing package that offsets competitive threats is essential. After that, and whether you have a product or service, are selling to consumers (B2C) or businesses (B2B), having well-articulated touchpoints that include a unique selling proposition and compelling value statements are imperative.

Having recently attended the National Restaurant Show, Sweets & Snacks Expo and the Summer Fancy Food Show, it is amazing how many marketers believe their stuff is so good that "It sells itself." And of course, there are those who lean more towards the Hollywood fantasy believing "If you make it, they will come." In both cases, these overly optimistic producers set up a table with a few products on display, put their company logo on a backdrop, and expect buyers to rush in droves to buy their stuff.

Sadly, I see the forlorn and despondent faces of these exhibitors staring at passers by, clearly wondering why nobody is stopping in to inquire further. What they have failed to consider is a brand strategy that is truly unique, clearly identifies who they are, describes what they have to offer, stands apart from their nearest rivals, and represents undeniable value. In short, simply having good stuff is not enough.

Design Matters
Let me begin by saying that the look and feel of your brand image, whether on packaging, tradeshow booth, website, brochure or uniform, plays a vital role in the success of your brand and your company. When brand imagery is designed in a manner that is unique, attractive, appealing and compelling, people have a tendency to slow down and will take the time to figure out "What's that?" It's a bit like driving in traffic when there's an accident on the side of the road. People are curious and intrigued by things they have not seen before and will slow down to take a look. While infuriating on busy roads, having buyers slow down at tradeshows, in supermarkets or surfing online is a marketers' dream.

Time is Short
No matter where the point of contact occurs, buyers are impatient and competitive options are plentiful. If your key audience has to spend too much time working out what you have, what it does, or why they should buy it, they will simply walk or click away. Accordingly, the messages you employ throughout your marketing program must be engaging, efficient, memorable, and relevant.

I Should Hope So
While we are on the topic of messages, saying that your stuff is "excellent quality" is meaningless. When you make statements that could be answered with the reply "I should hope so." your offer lacks impact, value, and will be perceived as generic. If your goal is to position your products or services as superior to all others, you'll need something better. This is when a truly creative copywriter who understands your market dynamics comes in handy.

We're Not in Kansas
Finally, and assuming you have decided that exports will generate increased sales volumes and add financial vitality to your business, your messages need to be culturally aligned so that, when experienced, they are immediately understood and relevant. To say "Yo Dude!" at the beach in California makes sense. So does "G'day mate!" in Australia, "Kakoste!" in Serbia, and "Ça va!" in Senegal. When it comes to brand messages, making sure your statements are accurate, appropriate and relevant is essential.

There are lots of factors that go into a successful branding endeavor. Conducting research and understanding marketplace dynamics, trends and preferences is the first step. After that, you'll need a creative team that can interpret this research, understands your business and your industry, has innovative and inventive copywriters and designers, and knows what it takes to offset competitive threats and drive business your way.

If your own brands are performing below expectations, or you've recognized the need for a more competitive brand image, Studio Spear has the resources to turn things around. Simply call us: 866 787 8761 - ask for Jeff Spear. You can also contact Jeff via email: jeff@studiospear.com.


In our nearly 40 years, Studio Spear has worked with an enormous variety of food and beverage producers, from confectionery to couscous, burgers to brownies and sweet potatoes to swamp cabbage. Most recently, we've had the pleasure of working with two uniquely different seafood producers - Beaver Street Fisheries and Jamestown Seafood.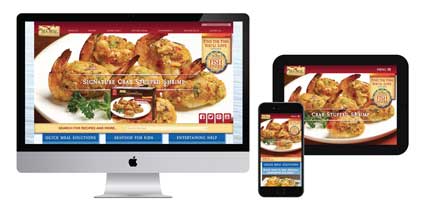 For Beaver Street, we researched, re-designed, re-engineered, and upgraded the consumer oriented website for their Sea Best brand of frozen seafood products. Wanting to ensure an online experience as unique and memorable as the brand itself, everything was 100% custom designed, custom coded and responsive to suit desktop, tablet and handheld devices.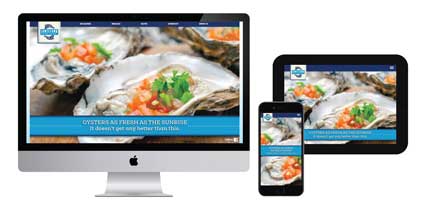 Jamestown Seafood is an emerging brand of fresh oysters, geoduck clams and other seafoods that are being farmed in the pristine waters of Sequim Bay, just before the entrance to the Puget Sound in the Pacific Northwest. While the trademark and website are their first branded touchpoints, we are managing a fully integrated marketing program on their behalf.

While these two companies could not be more different, we are pleased to be working with such quality-oriented food enterprises and excited to share this work with you.

If your website isn't keeping up with market dynamics, especially if it's incompatible with handheld devices, the time for an upgrade is now. To learn more about Studio Spear's interactive capabilities, or other brand building services, simply call us: 866 787 8761 - ask for Jeff Spear. You can also contact Jeff via email: jeff@studiospear.com.


At Studio Spear, we're big fans of science fiction and fantasy. Whether it's time travel, exotic worlds or alternative universes, we love the adventure. For this issue of TOAST, we've highlighted some of the titles we've read that have appealed to these sensitivities.




THE MARVELS
The Marvels, as with all of Brian Selznick's books, is aimed at individuals, young and old, who possess a sense of wonder, adventure and curiosity. The enjoyment, story aside, comes from the innovative and artfully executed presentation that blends text and beautifully illustrated pages into a seamless storytelling experience.


REPLAY
Jeff Winston dies of a heart attack, then wakes up twenty-five years younger in his college dorm room. He dies, lives and returns in a series of twenty-five year cycles, providing time to remedy past mistakes, make a fortune in the stock market, and to answer the question: "What if you could live your life over again?"


THE ACCIDENTAL TIME MACHINE
Grad-school dropout Matt Fuller is toiling as a lowly research assistant at MIT when he inadvertently creates a time machine. With a dead-end job and a girlfriend who left him for another man, Matt has nothing to lose in taking a time-machine trip himself, or so he thinks.


11/22/63
Jake Epping is enlisted to prevent the Kennedy assassination by stepping through a time portal and into the era of Ike and Elvis. Finding himself in warmhearted Jodie, Texas, Jake follows a path that leads to Lee Harvey Oswald and events that change the course of history.


TIME AND AGAIN
This is one of our favorite time travel novels - advertising artist Si Morley is recruited to join a covert government operation exploring the possibility of time travel. Set in New York's landmark residence The Dakota, Si finds a way to leave his twentieth-century existence and step back in time.




---

If you would prefer not to receive future emails of Toast, please click here to unsubscribe.

---



About Studio Spear
Studio Spear is a global branding agency specializing in consumer-oriented packaged goods and lifestyle-oriented brands. The company relies upon thorough research, strategic planning and emotionally charged creative solutions to produce significant and statistically proven growth for its clients. "It's our goal to enhance your product's reputation, generate higher levels of sales and see your brand outperform its competition," says Spear.

If you'd like to learn more about what Studio Spear can do for you, call, write or email Jeff Spear at:

Studio Spear
HEADQUARTERS
PO Box 51291
Jacksonville Beach, FL 32240
Phone: 904 685 2135
Toll Free: 866 787 8761
Fax: 410 486 9492

www.studiospear.com
jeff@studiospear.com




Baked Penne with Leeks
If you enjoy pasta and cheese, and want something a touch more sophisticated than regular mac-n-cheese, this recipe is sure to please.
Serves 8

INGREDIENTS
1/4 C butter, extra for preparing the baking dish
5 C leeks, chopped
1/4 C flour
3 1/2 C milk
1 lb. cheddar cheese, extra sharp, coarsely grated
1 T Dijon mustard
1 tsp Tabasco
salt & pepper, to taste
2 eggs
1 lb. penne pasta, fully cooked

DIRECTIONS
Preheat the oven to 400F degrees.

Grease a 15x10x2-inch baking dish with butter.

Melt the butter in a large saucepan over medium heat. Add the leeks, stirring occasionally, until they are soft and tender.

Sprinkle the flour over the leeks and stir, adding the milk immediately thereafter. Bring the leek mixture to a simmer, then mix in the cheese, mustard, and Tabasco. Continue stirring until the cheese is fully incorporated. Season with salt and pepper, to taste.

In a small bowl, whisk the eggs, then quickly whisk in a quarter cup of the cheese sauce. Once fully incorporated, repeat this step two more times. Once 3/4 cup of cheese sauce is completely incorporated, stir the egg and cheese mixture back into the larger pot of cheese sauce.

Add the cooked penne to the cheese sauce, mix completely, then transfer everything to the prepared baking dish.

Bake the pasta for 30 to 40 minutes or until it is hot, bubbly, and slightly browned.

Remove the pasta from the oven and let rest for about 10 minutes.

Serve immediately.



If you'd like to share TOAST with a friend, click here.

You can also follow us on Facebook.