Marketers are faced with a constant challenge - to develop new products, or position existing ones, in a manner that will appeal to, and resonate with, a fickle buying audience. Let me translate. The goal of marketers is to create stuff that is so appealing and desirable that people will happily exchange their hard earned cash for whatever it is that's on offer. With so many competitive brands on retailers shelves, the only way to achieve this goal is by design.

When it comes to packaged goods, it is a well-established fact that packaging is the #1 sales ambassador and that well-crafted and emotionally appealing design sells. But let's not forget, packaging design has two essential elements: 1. Structure and 2. Applied Graphics. In many instances, design is only being used halfway, and opportunities for competitiveness and enhanced sales are frequently overlooked.

Sure, proprietary packaging is expensive. But simply dressing up a tried and true container is not an answer that will always deliver the response you are seeking. While many buyers will judge a book by its cover, these same people are reading labels and becoming somewhat immune to superficial presentations.

I'm not saying applied graphics aren't important. They are. In fact, it's often a dominant color or striking illustration that first catches the eye of the buyer, initiates a favorable emotional response, compels investigation and contributes favorably to your bottom line.

All you have to do is walk down the cereal aisle. This is a category where just about all of the competitors have agreed to the same structural configuration - the rectangular paperboard box. As a result, consumers encounter one flat façade after another. The
only element that describes contents, communicates value and creates brand allegiance is the applied graphic on the front panel. Whether it's a multi-colored toucan, dimensionally rendered lettering, a cute little honeybee, or some other visual device, the impact of color, typography and illustration is unmistakable.

There are some brands that have found success at the opposite end of the spectrum - creating significant gains by exploiting container shape and functionality. Look at what Pom Wonderful has achieved with the introduction of their undeniably distinctive "figure eight" plastic container. It stands out from the crowd with virtually no assistance from applied graphics. While there are increasing numbers of juice producers investing in proprietary packaging, there are still those who are happy with more traditional configurations. The result is that most brand presentations in the juice category are missing out on opportunities to enhance their competitive edge.

There's also the issue of functionality. Creating a great looking container is no good if it's too hard to get the product out, or it fails to maintain freshness throughout its usable life. The easy open lid, rigid pouches, gravity fed pouring (upside down condiment containers) and advances in ergonomics have all been very well received. Even the humble toothpaste tube is experiencing functional improvements that are, in my opinion, long overdue.

Without a doubt, there are some wonderful opportunities in packaging design that remain untapped. The first step is recognizing that parody brands are only good for a while. Stores are full to the ceiling with copycats and lower priced equivalents. Don't forget, consumers are not easily fooled, more informed than ever, and can see a fraud from miles away. It's been proven, time and time again, that consumers appreciate value, seek out quality, and are willing to pay a premium for high integrity products. If you have any doubt, just take a look at how well specialty foods are performing and how rapidly they have gained shelf space in mainstream supermarkets.

Packaging design, whether structural or applied, is playing a very real role in brand building, consumer preference and sales. If your bottom line is looking a bit flat, it's probably time to re-evaluate your brand imagery and embrace change.

To find out how Studio Spear builds powerful brand presentations with more competitive and appealing packaging solutions, click here. If you have already recognized increasing competitive pressures and are ready to embrace change, please call 866 787 8761 - ask for Jeff Spear. You can also contact Jeff via email: jeff@studiospear.com.





Color gives brands a way to distinguish themselves from the competition. With packaging, certain colors are more readily noticed and will effectively cut through the clutter. Not only does it attract attention, it creates a mood and builds desire, especially with foods.

From a psychological perspective, colors are culturally aligned and will trigger specific and predictable emotional responses. While these are just a few examples, you'll want to make sure the color schemes you employ are in agreement with both your brand personality and communication intent.

At Studio Spear, our brand imagery ignites positive emotional responses by exploiting bright and cheerful yellows, warm and energetic reds, all applied to a clean and fresh white background.



At Studio Spear, we're always on the lookout for great new movies, soundtracks, musical recordings, gallery exhibitions and books. We believe these latest discoveries are quite enjoyable and worth sharing.

Books



TIME AND CHANCE
One man, two completely different lives. If you've ever wondered what your life might have been like had you made different life choices, this book is for you.


MR PENUMBRA'S 24-HOUR BOOKSTORE
This is not your typical neighborhood bookstore. It is a captivating tale of cultish mystery and intrigue - engaging, gripping and completely enjoyable.


BLIND MAN'S BLUFF
Have you ever wondered about life on a submarine? Want to know how the US navy puts them to use? This story of shipbuilding, espionage, the Cold War and military power answers these questions and more.


OUTLANDER
While visiting Scotland in 1945, Clare Randall is mysteriously transported back to Scotland in 1743 and the adventure begins. History, suspense, sex, mystery and violence - everything you'll need for an enjoyable read.


Music



MY HEAD IS AN ANIMAL
We were looking for something new to spice up our music library. Although we're still listening, first impressions have been quite positive. If you like Milo Greene, Grace Potter & the Nocturnals, or Rilo Kiley, you'll probably like this.


Movies



BOXTROLLS
While the story is suitable for kids of all ages, it's the artistry of this film that had us spellbound. From start to finish, we kept on wondering "How did they do this?" If you want to find out, make sure to watch the revealing, stop-action segment that appears with the credits.


THE HUNDRED FOOT JOURNEY
We recommended the book in the last issue of TOAST. Having heard the film was equally worthwhile, we took a look. While bits of the plot have been changed, the characters, kitchen scenes and setting in the French Alps make this film visually engaging and completely enjoyable.



A VIBRANT AND APPEALING BRAND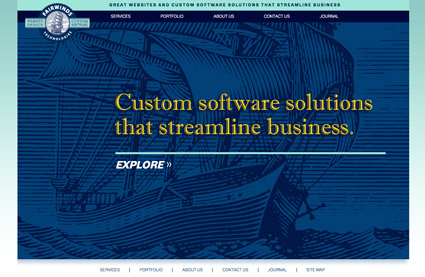 Studio Spear has been well regarded for its work in consumer products, especially Food & Beverage, for nearly four decades. In that span of time, the company has also developed marketing programs for clients operating around the world in Real Estate, Entertainment, Banking & Finance, Healthcare, Renewable Energies, Technology, and Tourism sectors.

Most recently, Studio Spear has completed comprehensive research, strategic planning and brand rollout for Fairwinds Technologies. According to Jan Pilant, the company's president, "Spear has reinvigorated my business with a remarkably competitive and engaging marketing strategy and brand image. We could not be more pleased."

If you'd like to increase the impact of your website, or want to build a more dynamic interactive environment, please contact Jeff Spear by phone: 866 787 8761 or email: jeff@studiospear.com. To see some of Studio Spear's interactive case studies, click here.


---

If you would prefer not to receive future emails of Toast, please click here to unsubscribe.

---



About Studio Spear
Studio Spear is a globally recognized and award winning marketing consultancy specializing in consumer packaged goods and lifestyle-oriented brands. The company relies upon thorough research, strategic planning and emotionally charged creative solutions to produce significant and statistically proven growth for its clients. "It's our goal to enhance your product's reputation, generate higher levels of sales and see your brand outperform its competition," says Spear.

If you'd like to learn more about what Studio Spear can do for you, call, write or email Jeff Spear at:

Studio Spear
HEADQUARTERS
PO Box 51291
Jacksonville Beach, FL 32240
Phone: 904 685 2135
Toll Free: 866 787 8761
Fax: 410 486 9492

www.studiospear.com
jeff@studiospear.com




Ginger Salad Dressing
This distinctive, tangy, and flavorful dressing will liven up any salad.
Makes approx. 1 cup

INGREDIENTS
2 T onion, chopped
2 ribs celery, chopped
1/4 C olive oil
2 1/2 T rice vinegar
1 1/2 T ginger, chopped
1 1/2 tsp Asian sesame oil
1 1/2 tsp lemon juice
1 tsp mirin
1 tsp sugar
1/2 tsp salt
1/2 tsp pepper
1/4 tsp lemon zest

DIRECTIONS
Rinse the onion in cold water, then place in a blender with the rest of the ingredients. Blend on high until liquified and smooth.

NOTE: For a thicker and creamier dressing, try blending in mayonnaise, Greek style yogurt or firm tofu.



If you'd like to share TOAST with a friend, click here.

You can also follow us on Facebook.